PHOTOGRAPHY

PHOTOGRAPHY CLASSES 2015
Kent Bowser continues to teach black and white landscape photography at Ghost Ranch with several offerings throughout the year. Would you like to brush up on photography skills that you haven't used for awhile? Are you a begginner who is interested in working in a real darkroom with film and paper? Whatever your level of interest, there is probably a class for you at Ghost Ranch's upgraded and well maintained darkroom facilities. You can also take one on one classes with Kent Bowser in his private darkroom in Santa Fe. For a description and calendar of Kent's classes, and more of Kent Bowser's photography see Bowser's updated guest pages. Kent also printed the William Parker Little images seen on this site.
2015 PEDICAB SEASON IS GEARING UP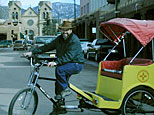 Hey, guess what? After driving and helping to manage for many years, I'm now the owner of Santa Fe Pedicabs (www.santafepedicabs.com), here is a page that shows if am working today on the pedicab along with some pedicab FAQs. So come and take a ride with your favorite artist (ha ha) when you are in downtown Santa Fe.

MORE..
See more of my images from New Mexico and the desert southwest: Lightning pictures. Also, see work by other Santa Fe photographers who are featured guest artists. Lastly, I've listed some favorite and cool sites on the links.
CONTACT INFORMATION
Email: email me
Phone: (505) 982-4457
Mail:
Robert L. Chavez
2 Torreon Place
Santa Fe, New Mexico 87508